SCOPE:CLEANER
Flushing pump Suitable for all Olympus, Pentax, Fujinon, Storz and R. Wolf endoscopes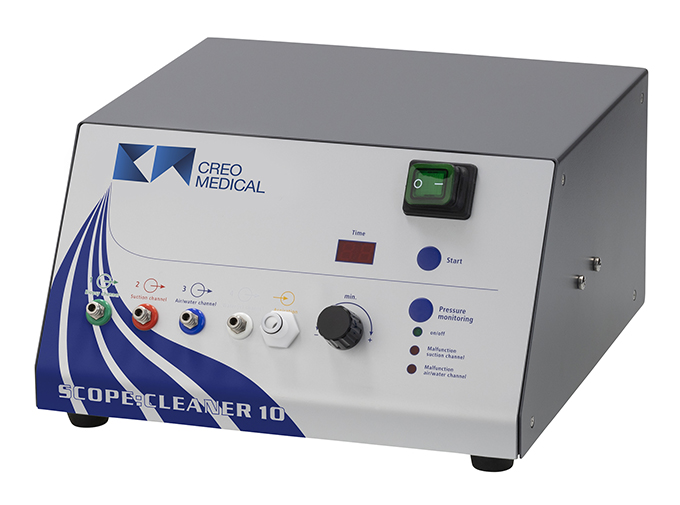 Technische Daten
| | |
| --- | --- |
| Height: | 150 mm |
| Width: | 280 mm |
| Depth: | 300 mm |
| Weight: | 7 kg |
| Powersupply: | 230 V, 50 Hz |
The optimum solution for manual cleaning and at minimum price. The Scope Cleaner works with low-maintenance and low-noise. To prevent any channel damage, a pressure controle (max. operating pressure 0,8 bar) is implemented. With the switch "Monitoring on" the pressure control will be activated.
All channels (air-/water, suction and biopsy-channel) will be verified electronically
Enables the user to disinfect a scope between two examinations very easy
Cleaning by compressive flushing instead of aspiration flushing (as it has been done in the former times)
Compressive flushing means that all channels will be disinfected in order to prevent deposits or channel blockings therefore you may enlarge the durability of your scopes
The SCOPE:CLEANER indicates a blocked channel visual and acustical
Colour coded connection tubes obviate a maloperation
The SCOPE:CLEANER works with low-maintenance and low-noise
LEAKAGE:MASTER
Electronical Leakagetester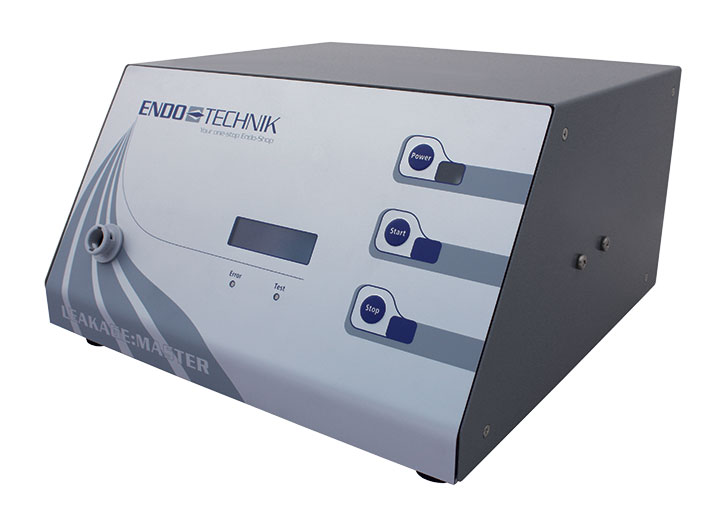 Technische Daten
| | |
| --- | --- |
| Power supply: | 230 V / 50 Hz |
| Fuses: | 2 x 1,25 A |
| Supervision mark: | VDE 0750 (part 1/05.02) |
| Width: | 280 mm |
| Height: | 150 mm |
| Depth: | 300 mm |
Produkteigenschaften
The LEAKAGE:MASTER does not only serve for the examination of the endoscope on tightness, but finds also use already from prepurifying up to the end of the disinfection procedure and protects your endoscope against liquid break-down by permanent, electronically controlled counter-pressure.
During the manual precleaning and disinfection the Leakage:Masters avoids an ingress of water into the endoscope by permanent air feed charge via the ETOvalve.
The Leakage: Master is working with a counterpressure of approx. 200 mbar. Any possible leak is indicated visual and optical. The counterpressure will be sustained until the endoscope will be taken out of the fluid.
Therefore the Leakage: Master prevent high expenses for endoscope repair.
Product properties
Suitable for all common, flexible endoscopes
Exact readout by display
Detects micro-perforations in less than 2 minutes
Optical and acoustical alarm signal
Leakage surveillance during the whole endoscope reprocessing
AIR:MASTER
Air conditioning compressor for intermediate and final drying of flexible endoscopes
The AIR:MASTER is used for intermediate and final drying of waterproofed, flexible endoscope after reprocessing. All Olympus, Fujinon, Pentax and Storz endoscopes can be dried by using corresponding adapter. To prevent channel damages the AIR:MASTER is equipped with a pressure monitoring (max. working pressure is under 0,8 bar). The pressure monitoring can be easily enabled or disabled via two switches. Two gas-sterile filter allow the safe drying with sterile air. After 24 min. the AIR:MASTER turns off automatically.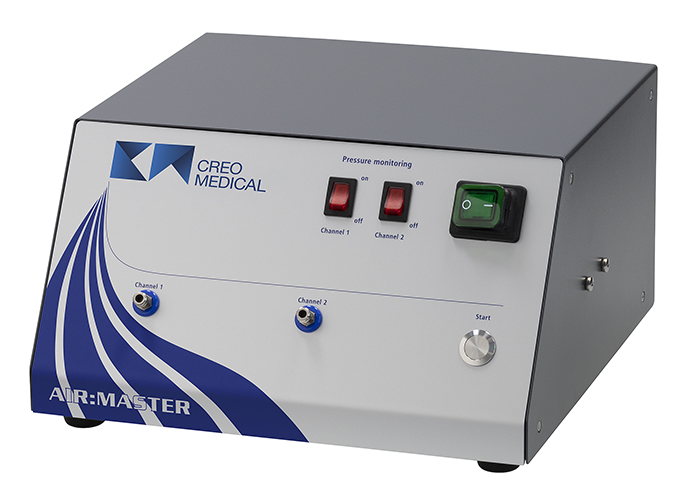 Technical Data
| | |
| --- | --- |
| Main supply: | 230 V |
| Main frequency: | 50 Hz |
| Max power consumption: | 115 VA |
| Max current draw: | 0,5 A Schutzklasse I |
| Width / height / depth: | 150 x 280 x 300 mm |
| Weight: | ca. 7 kg |
| Max. back pressure: | 0,8 bar |
AQUA:MASTER
By connecting the AQUA:MASTER to the biopsy-channel directly you can apply fluids precisely in order to wash away intestinal bleedings, coagulums or rest of dejection pollutions.
The AQUA:MASTER is working with a quick-acting closure peristaltic pumps, so that the disposable hose can be changed very simple and fast.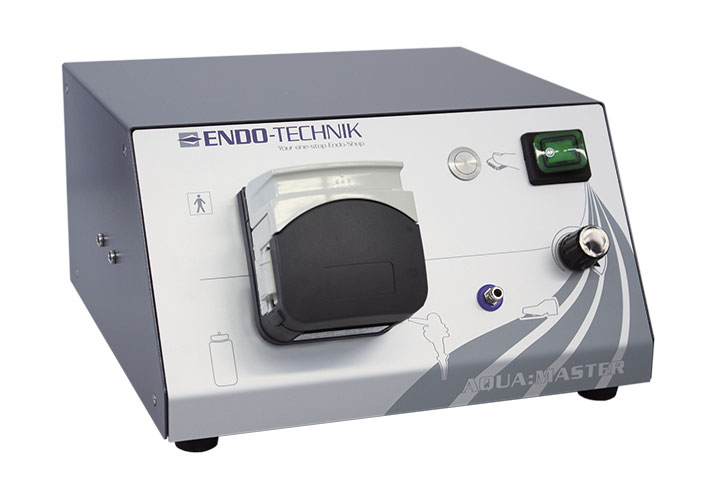 Technical Data
| | |
| --- | --- |
| Power supply: | 110 - 230 V / 50 Hz |
| Fuses: | 2 x 1,25 A Träge |
| Weight: | 5,0 kg |
| Width: | 280 mm |
| Height: | 150 mm |
| Depth: | 300 mm |
Product characteristics
Controllable rate of fl ow: 490 - 1000 ml
Simple operation using the hand or foot-operated switch
The water tank is suitable for autoclaving
Hygienically safe disposable tube system
Purging and extraction through Y-valve with no need to disconnect and reconnect
SUCTION:MASTER
The pump for all requirements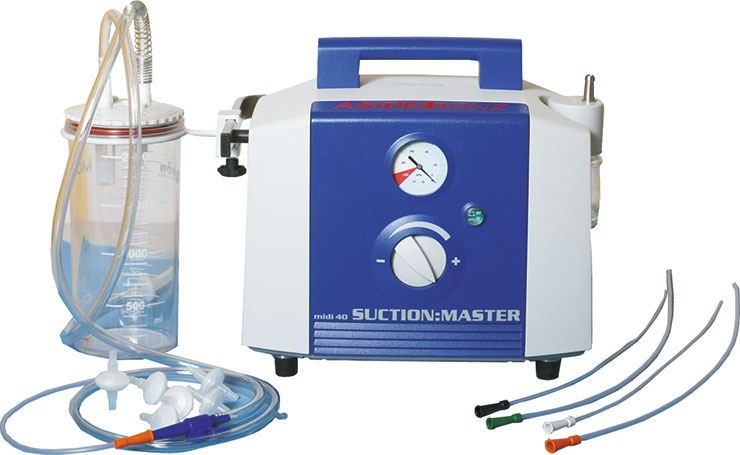 Three-way overflow protection
Safety vacuum automatic controller
Simple and comfortable handling
SUCTION:MASTER Mini
20 litres / min.
The low-priced solution for the practice enterprise. With a suction power of 20 litres per minute the smallest variant is suffi cient for usual ranges of application in private practices.
SUCTION:MASTER Midi
40 liters/ min
The optimal solution for applications in the hospital enterprise. With a suction power of 40 liter per minute (Midi), and/or high performance and reliable devices are to 50 liter per minute (Maxi) at the disposal. Available optionally in each case with practical roll rack.
SUCTION:MASTER Maxi
50 liters /min
CO2 INSUFFLATION
Better for you - better for the patient
The Insufflator is designed for use with CO2 as the distention medium in the gastrointestinal tract and is used in conjunction with a gastrointestinal endoscope. Using CO2 reduces the stress on the patient by a considerable degree. Due to its very compact dimensions, the CO2 Insufflator can be integrated seamlessly in the endoscopy equipment used by all practitioners. The endoscope user will not notice a difference between using CO2 and ambient air. The flow of gas is controlled in exactly the same manner in line with requirements and at the required rate. The integrated gas-saving functions ensure the high availability of the equipment.
The Insufflator can be used in either direct or indirect insufflation mode. Indirect insufflation is performed via the water bottle. This equipment can, if required, employ the direct-insufflation principle. In contrast to all the conventional CO2 Insufflators available, the direct-insufflation principle insufflates CO2 gas via the biopsy channel of the endoscope direct. As a result, no gas is emitted into the ambient air. The actual amount of gas used is thus reduced to 1/3 of that required for conventional systems.
The system is also equipped with a pressure regulator that prevents potential hazards to the patient from uncontrolled emission of gas into the bowel.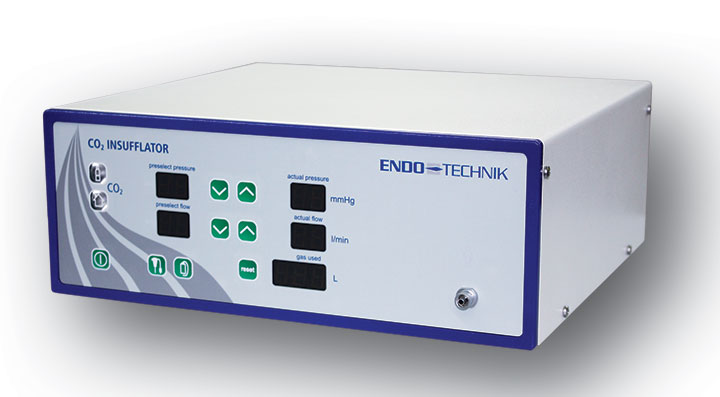 Technical Data
Equipment Type:
Insufflator 1800/16 C
Main voltage:
100 ... 240 V AC
Power required:
55 VA
Mainfuses:
2 x 0,63 AT (SB)
Frequencies:
50 / 60 Hz
Protectionclass:
1
Personal protection:

CE – only in the event the specified insufflation filter classification is applied in accordance with Annex IX of Directive 93/42/EEC IIa

Weight:
ca. 8,0 kg
Dimensions (W x H x D):
350 mm x 135 mm x 324 mm
Ambient operating conditions:

10° C - 40° C ambient temperature
30 % - 70 % air humidity
70 to 106 kPa air pressure

Emission value:
Gnoise < 40 dB (A)
Insufflation medium:

CO2 medically pure gas via a bottle or wall connection

Selectable insufflation rate:
3 - 16 l/min
Selectable body cavity pressure:
10 ... 30 mmHg
Operating pressure:
0 ... 250 mmHg
Tolerance display
Pressure display:
ø 3 mmHg
Gas flow rate:
ø 0,5 l/min
Gas consumption display:
ø 15 %